Drills, Hydraulics, Parts, Financing
Higgins Rig Co. Has Been Dedicated To The Drilling Industries Along With Hydraulic Service And Repair For The Industrial, Construction And Agricultural Industries For 30 Years.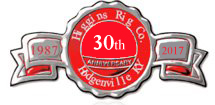 We Are Proud To Be Internationally Known For Top Quality Previously Owned Well Drilling Equipment, Parts & Components. Whatever Your Drilling Requirements, We Have What You Are Looking For.
We Currently Have Over 700 Drills Listed For Sale.  We also have In-Stock Parts and other equipment in the following categories:
Air Compressors & Boosters | Auger Drills  & Rigs | Bucket Rigs | Cable Tools & Draw Works | Drill Casing & Pipe 
Generators & Engines | Grout Pumps  | Hydraulic Cylinders, Pumps & Motors
Miscellaneous | Mud Pumps & Mud Systems | Oilfield Equipment | Pump Hoists | Rotary Drills & Rigs | Water Trucks
and a whole lot more. . . Whether You Are In The Market To Purchase Or Sell Equipment Our Team Is At Your Service For All Your Drilling Needs!
Higgins Rig Co. understands the importance of hydraulics and their role in whatever piece of equipment it's running. When hydraulics go down, the equipment is down and work stops. We will do whatever it takes to get your hydraulic cylinder, pump or motor repaired or replaced and the equipment running as quickly as possible so it's back on the job instead of in the shop. We properly rebuild hydraulic cylinders, pumps and motors at a steep discount over manufacturers and dealerships. We are capable of disassembling and reassembling hydraulic cylinders of most any size and type, regardless of how big or small, on all types of equipment.
If you don't have time or tools to remove the hydraulics from the equipment, we can arrange to have it brought to our shop for removal and repair. We also stock many hydraulic cylinder parts. If we don't have it, we can get most anything the next business day and ready to repair to limit your down time. In addition to cylinders, we offer new and rebuilt exchange hydraulic pumps and motors including Denison, Vickers, Rexroth, Eaton, Racine & Sundstrand for agricultural, construction and industrial equipment. Rebuilt pumps and motors will be flow and pressure tested and come w/ a replacement warranty. We stand behind our work and will guarantee what we do, is right!

Address:
Mailing Address: P.O. Box 35
Shipping Address: 1797 Bardstown Rd.
Hodgenville, KY 42748